We may be heading into the festive season but life at York House Holiday Park is as busy as ever – and our team are working hard to make it special for everyone.
It has been a great year for fundraising at York House. As well as our own events, we were delighted to host a 65th birthday party for one of our lodge owners, Margaret Fox, in the Games Room. Not only was it a great celebration but, with support from her friends, we're pleased to hear her party raised £500 to be split between our main charities, Yorkshire Air Ambulance and York Rescue Boat.
We are also honoured to be welcoming another event to the Old Barn Coffee Shop next month. Balk and Bagby Senior Citizens' Lunch was under threat when the church hall where it is usually held was condemned. We were keen to ensure nobody missed out, so we invited the group to join us and we can't wait to give them a memorable celebration.
The Old Barn is still open each Friday, Saturday and Sunday through winter, except Friday 20th to Sunday 22nd December when it will be closed. It will re-open as usual on Friday 27th December – and the first 10 customers will receive a free mince pie!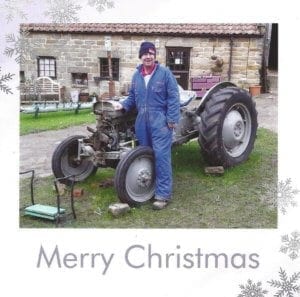 It was lovely to receive a personalised Christmas card from Matthew, one of our friends on Abbots Green. He was in his element with this vintage tractor! We're not the only ones receiving Christmas cards: there are plenty being exchanged between neighbours here on the park.
Meanwhile, our holiday home owners are still making the most of the last few weeks of the season. As York House Holiday Park is open for ten-and-a-half months of the year, and Abbots Green is year-round, everyone has been enjoying the beautiful crisp and sunny days in early December. Our area is wonderful all year round, but has been looking particularly stunning recently: a great chance to get out and make the most of being here. The picture at the top of the page shows just how beautiful the views are from the Park at the moment!
We've also been getting plenty of enquiries from people keen to own a holiday home at York House or Abbots Green. Even when the weather turns chilly, it's lovely to be able to get away from home and enjoy valuable time with family. Having a holiday home to visit for weekends or longer stays is a great way to make memories all year round.
If you'd like to know more about life at York House and Abbots Green holiday parks, contact us today.