The best golfers from across YHL Parks lined up to compete in our Inter-Park Golf Competition this summer.
Competing in pairs, 22 keen players headed to Thirsk & Northallerton Golf Club for the day. We had six pairs from York House Holiday Park, three from Old Hall, and two honorary teams from River Laver Holiday Park just down the road.
The title of Inter-Park Champion has been held by Old Hall since the last competition two years ago.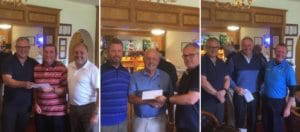 This time, the title had to be shared as, after 18 holes, there was nothing to separate three of our teams: Malcolm and Simon Battensby (York House), Gordon Rennie and Ian Medforth (York House) and Glen Scholey and Tony Gill (River Laver).They're all pictured above.
Although not among the winners this time, Old Hall was well represented in the results too. Park Manager Denis Whittle achieved the longest drive on the 14th hole, and Alan Singleton was nearest the pin winner on the 18th.
We also need to make special mention of Carol Longmire and Caroline Waters. In the past, the competition has been an all-male affair, so we were delighted to welcome a team of ladies to this year's contest. They certainly represented the parks' women well!
Thanks to everyone for taking part and to our hosts at Thirsk & Northallerton Golf Club, who made us all very welcome.
If you're interested in enjoying a round or two of golf near your holiday home at YHL Parks, you'll be spoilt for choice. There are dozens of fantastic courses to choose from to suit different abilities, preferences and more. Speak to our Park Managers who will be more than happy to share their recommendations.