Thinking of paying a visit to Old Hall Holiday Park near Boroughbridge? You'll find a warm welcome awaiting you from the Park Managers, Wendy and Denis.
Why not get to know them before you set off with our handy Meet the Team Q&A?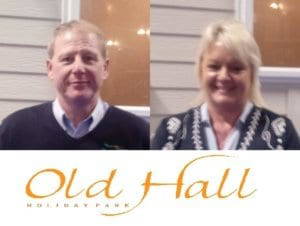 How long have you been managing the park?
9 years
What were you doing before that?
We were managing touring parks elsewhere before we came to Boroughbridge to run Old Hall.
What attracted you to this park?
D: The location – it's ideal for us and for visitors coming here. We're a few minutes' walk from Boroughbridge, which has so many attractions. The best parts of North Yorkshire are right on the doorstep, and it's easy to access from the A1 but still lovely and peaceful.
W: We were keen to be back working in Yorkshire again, so Old Hall was perfect for us.
What do you enjoy most about your job?
D: Being in the fresh air – you can't beat it.
W: I love meeting all the people – all the visitors who come for the touring space, as well as the owners who come back year after year. It's a great community.
What's your favourite spot/event on the park?
Both: The annual hog roast party!
Tell us something we might not know about you – an unusual former job, a strange talent… whatever you want!
D: I enjoy performing Karaoke as Frank Sinatra / Dean Martin at the parks evening events.
W: I'm often called the Charlie Dimmock of the Old Hall for my green fingers when it comes to the site entrance flower displays.
We can certainly vouch for Wendy's gardening skills – just visit Old Hall during the spring and summer to see the stunning displays she creates! If you want to find out more or arrange a tour of the park, get in touch now. Wendy and Denis will be happy to welcome you.