We were delighted to host Christmas dinner for the Bagby and Balk Village Society at York House after discovering that they were unable to use their regular venue.
A registered charity, the society usually holds its Christmas dinner in Bagby Village Hall, with committee members preparing dishes at home to bring to the event. Unfortunately, however, the hall had been deemed unfit for use, which meant that the society found themselves stuck for a venue.
It just so happened that Claire Batson, the supervisor of The Old Barn Coffee Shop here at York House, found out about their predicament while chatting one day with Emma Bishop, who chairs the Bagby and Balk Village Society. Clare offered to help out to ensure that the Christmas dinner went ahead.
The dinner took place on January 12th. Tables were set out in the ample space of the games room at York House, next door to The Old Barn. Claire and her brilliant team – Caitlin, Isobel, Katie and Magda, who are all from the village – made and served a delicious festive meal including starter, main and dessert.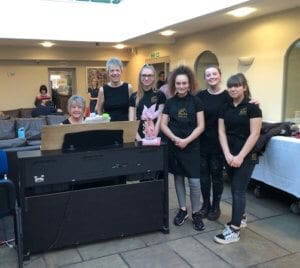 Afterwards, guests enjoyed a sing song with Wendy on the piano, which was such fun that the York House staff even joined in!
Everyone had a fantastic time and we received some lovely comments, including: "One of the best Christmas dinners ever staged for the village pensioners. Lovely food, excellent venue and really grateful for your help."
The occasion also featured a minute's silence and the lighting of a candle to remember Eric Marshall, a very popular man who lived in Bagby and had been due to attend the Christmas dinner but sadly passed away just a few days beforehand. Eric was well known in the village and further afield for the fantastic Christmas lights display on his bungalow every year for three decades, raising thousands of pounds for the Bagby Church Fund. He is sorely missed.